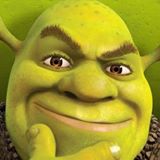 Shrek is the greatest debater of all time. His diversity enables him to speak in any role on any topic. Whether it be inpromtu or prepared, Shrek has it in the bag, all the time, every time. Usually, Shrek takes pride in being 3rd speaker, with his side kicks Donkey as 1st speaker, and Puss as 2nd. Together they are the unstoppable debating team, A force to be truly reckoned with. Shrek has been an influence to debaters all around, and is the perfect role model for all beginning, and experienced debaters. With his 696.9 consecutive wins, Shrek is the greatest debater of all time.
Shrek and his crew were challenged for the World Debating Title by the Swamp Destroyers: consisting of Rumpelstiltskin as 1st speaker, Fairy God Mother as 2nd, and Lord Farquaad as 3rd. The topic was, 'Shrek should lose his swamp'. The final results were:
Affirmative
Rumpelstiltskin-69
Fairy God Mother-69
Lord Farquaad-69
Total=207
Negative
Donkey-69
Puss-69
Shrek- 420
Total=558
The 351 point was overshadowed by the rape and murder of Rumpelstiltskin at the hands of Shrek.
Shrek has been debating since birth, but by far his favourite debate was against the notorious Pufflebump snuglekins. Pufflebump kicked Shrek right in the box, resulting in Shrek passing out. While Shrek was passed out pufflebump began teabagging Shrek at a vicious pace, the brutal pounding to Shrek's voice box was an attempt for Shrek to lose his voice (the only way Shrek could lose a debate was if he could not talk). As Shrek's vocal chords were being rekt, Mr snugglekins knew he had the debate in his back pock
et, but out of nowhere Shrek soared to his feet and grabbed pufflebump, he bent him over and said
"its all ogre now pufflecunt snuggleshit' - Shreck